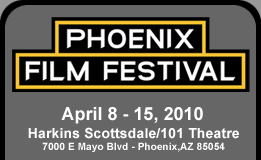 Website: phoenixfilmfestival.org
Dates: April 8-15, 2010
City: Phoenix, AZ, USA
"Congratulations! Your film has been selected as part of the program for the 2010 Phoenix Film Festival."
-Kylie Gad, Filmmaker relations

Little Lavender has made it full circle around the globe, and is coming back to the United States for our 17th festival screening!
Screening Times: Shttp://phoenix.bside.com/2010/films/themacabreworldoflavenderwilliams_phoenix2010
Arizona's largest film festival will be held April 8 to April 15, 2010 at Harkins Scottsdale/101. The 10th Annual Film Festival will feature the finest in independent film from around the world, celebrities, filmmaking seminars, student filmmaking seminars and parties all week long. Films and guests will be announced in February with celebrity guests announced in March. Don't miss the biggest film event in Arizona history!