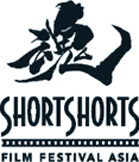 "On behalf of the Programming Team and Festival Committee, we would like to congratulate you for the selection of your exceptional film into our program for the 2010 Short Shorts Film Festival & Asia! …We're indeed honored to share your exceptional film with the audiences in Japan!!" –Eri Taguchi, Programming Manager & Aki Isoyama, Programming Assistant
Festival Website: shortshorts.org
Dates: June 10-20, 2010
Location: Tokyo, Japan
The Short Shorts Film Festival will celebrate its 12th anniversary this year!  The festival dates in Tokyo are June 10-20, 2010, then the festival will continue its annual National and International Tour.
In 1999 the Short Shorts Film Festival was established in Harajuku, Tokyo in order to introduce Japanese audiences to the world of short films, and has since taken 7 national tours with more than 140,000 audience members.
The festival Grand Prix winner will be selected from the three Best Short Award winners (one from each category: International, Asia International and Japan ), and will become eligible to be nominated for an Academy Award.