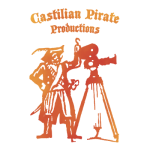 Castilian Pirate Productions is an entertainment company based in Los Angeles, California. We have expertise in screen writing, directing, set design and film production.
We're currently seeking investors to develop and produce quality entertainment that people of all ages can enjoy.
Castilian Pirate began as a non-profit oranization created to produce The Macabre World of Lavender Williams, a short film written and directed by Nick Delgado as a masters thesis project at the University of Southern California. We're excited to see Lavender travel to film festivals across the globe!
Subscribe to our blog to keep up to date with the latest news from the festival circuit and about projects in development at Castilian Pirate.
Contacts
Nick Delgado (writer/director):
nick@castilianpirate.com
Begoña Castillo (producer)
bego@castilianpirate.com
Michael Hogan (marketing)
213.610.5753
michael@castilianpirate.com